CREATIVE BONES
Our minds have the power to alter who we are, what we see, and what we do. Yet it seems that as we grow, we begin to lose touch with our imaginative worlds. We become accustomed to the rights and wrongs of interpretation. We are taught to perceive based on conventional ideas. Creativity is our only escape from these constraints. It is a means of breaking free from rigid thinking and binaries, returning ourselves back to a time where we were innocent of answers, innocent of self, and thus open to the unmediated tide of perception (Batchelor, 2000). We reach a point in our lives, usually during teenage-hood, where we are confronted with a decision as to which 'path' we will take. Suddenly, we are expected to decide whether we want to continue imagining and creating. Once we pass through this threshold, we are emptying ourselves of innocence. But what happens to the dreaming world, to the imaginative world, to those realms of knowledge that we cannot access simply by living at face value (Winterson, 2016)?
To be creative is to reveal to the world what we do not know. Why do we lose touch with our innate creativity as we transition from childhood into adulthood, and how can this loss be prevented?
"How can we help students remember what they have forgotten along that old, spiraling path?"
-Rebecca Williams


Who am I? When is now? What is this?
In 2014, this exhibition sparked an ongoing question for me. Is the key in being able to truly create to be able to observe the world through the eyes of a child? To be able to see "as if for the first time, the recovery of a lost innocence" (Batchelor, 2000 p.33)?
Won Seoung Won
My Age of Seven (series
2010
Type C prints
Image courtesy: Mori Art Museum
(Mori Art Museum, 2014)
"It looks like she has gone to a wedding and has done something wrong. Like stolen the cake or something"
"Could her evil step-mother have sent her a letter saying you're next"
"Perhaps she has seen a ghost"
"Or maybe she is a ghost"
"Maybe she's not human. Maybe she's something else"
"Maybe she's lots of humans squished together"
"The thing she is holding might not be a tissue. It might be something else. Like a letter or a million-dollar bill and she can't pay it all"
"Maybe there are souls going into her mouth, like when you read books or watch films and you get souls going into your mouth"
"Maybe Picasso just wanted to draw a colourful picture"
"Maybe it was based on a real person and he wanted to draw it like what they feel on the inside"
"Maybe his friend had a bad moment"
"Or maybe her mum was horrible and she wrote a letter saying 'I'm coming for you' or something"
"She cries because she's scared. She's scared of the devil"
"Maybe she's happy so she's crying"
"When people win the X factor, they cry. Not because they're sad. Because they are full of joy"
"Maybe she has been given a sports car for her birthday"
Rineke Dijkstra, I see a Woman Crying (Weeping Woman), 2009, Video installation
(Mori Art Museum, 2014)
Image courtesy: Mori Art Museum
My memory box
It documents a departure from innocence, in particular through prep (for me this was from the age of four through to the age of five). It illustrates a long and winding process, involving several changes in perception. Letters turn into words. Colours and shapes turn into objects. I begin to develop static concepts as a result of perceived data.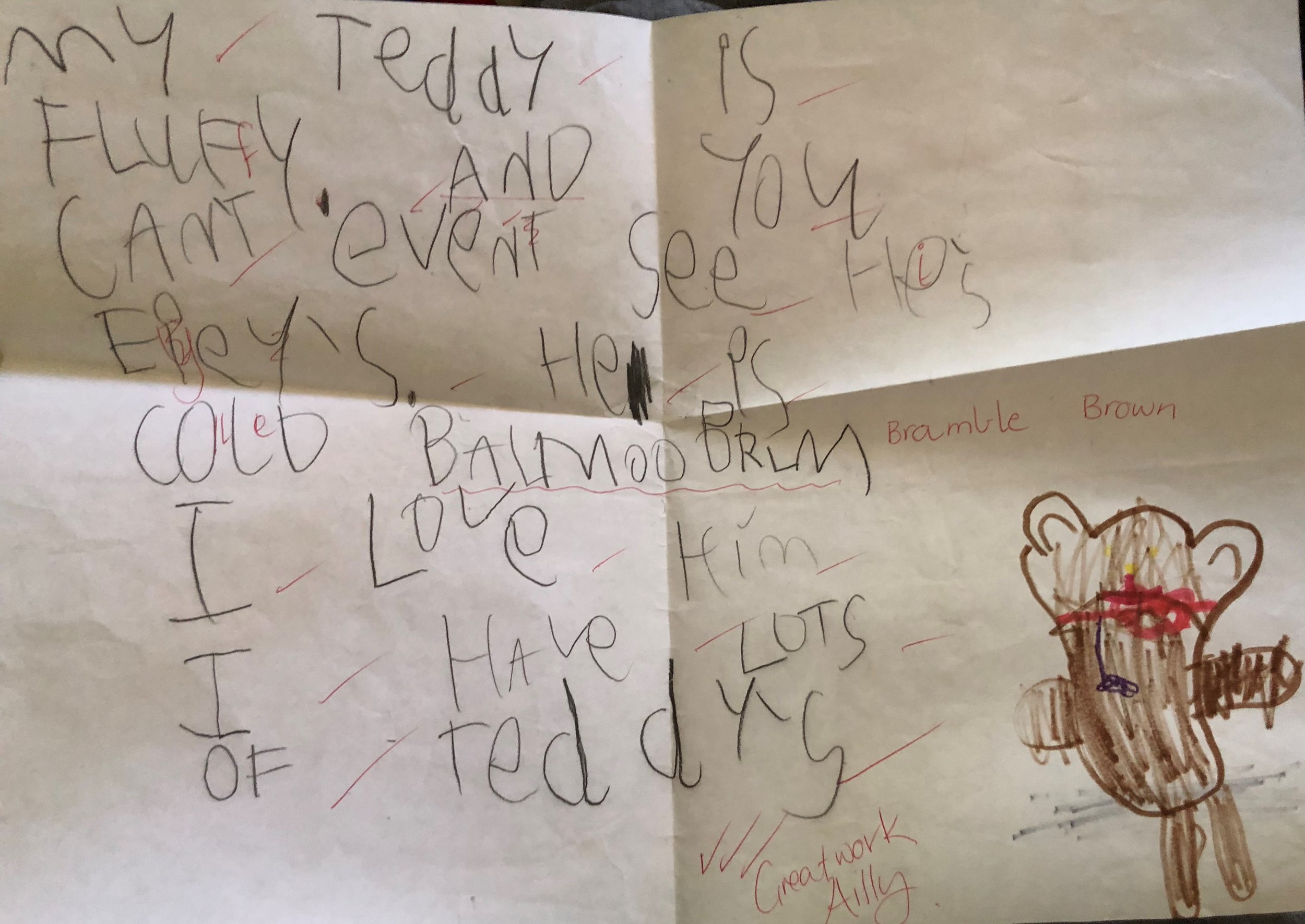 My arms are not coming out of my head
I hold this vague memory that has stuck with me. Vague, but vivid for such an ancient memory. From my observations in my memory box, I think it must have been at about the age of three. I had drawn a person, with a body, two arms, two legs, and a face. I recall my elder sister looking over my shoulder. She told me that I had it all wrong. She pointed to her own head, bringing my attention to the fact that her body and her head were two separate shapes, and her arms were not in fact coming out of her head like my picture had suggested. She was right…. It blew me away.
C+AARP - Inter-generational art project
"Feeling called on truly to attend─ to read the child's world" (Greene, 1995 p.42)

"Looking [at things] for the possibility of what they can be and what we might be able to do with them." (Williams, 2017 p.8)
"If you stop seeing yourself as a learner, you forget what it feels like" (Williams, 2017 p.15)
"Mess-making might be a methodological practice, a way of becoming more in-tune with objects" (Hood & Kraehe, 2017 p. 34).

A friend, on an interaction with her son
"We were about to leave the house and I told him that we had to clean up all the mess he made before we left. He looked at me perplexed and said 'I don't understand… I played with the toys… they're all still there… what's the problem?' "